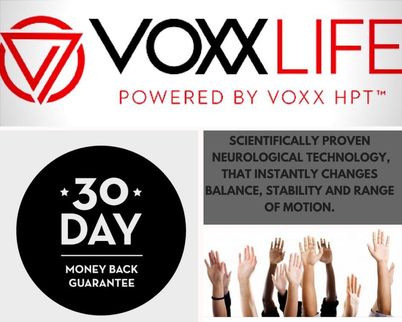 Wearable Neuro-Technology to
​Enhance your Wellness Journey
​
No matter our age or lifestyle, VOXX HPT is changing the way we live, play and enjoy our lives.
VOXX is the future of wellness, sports and rehab! We are helping so many people each and every day...are you next?
My clients have reported extraordinary results while using VOXX HPT:
more ENERGY
better FOCUS
improved SLEEP
greater FLEXIBILTY
feel STRONGER
greater BALANCE and STABILITY
less BODY DISCOMFORT
​decreased HEADACHES
improved ANXIETY/DEPRESSION
improved DIABETIC NEUROPATHY
greater ATHLETIC PERFORMANCE and RECOVERY
and so much more!

Click here to learn more
ORDERS CAN BE MADE THROUGH ARRAY WELLNESS
---
Pain Management
Our study on 1,000 patients with diabetic neuropathy showed a significant reduction in average pain score when using VoxxLife socks.
Balance & Mobility
Balance and mobility improvements of >30% were seen in a study of 69 patients using VoxxLife technology.
Rehabilitation & Recovery
Combining well-established compression sock approaches with VoxxLife technology may accelerate the rehabilitation and recovery process.
Fatigue
Counteracting signals from pain receptors in the feet, VoxxLife technology can reduce a patient's feelings of fatigue and improve overall well being.
Diabetic Neuropathy
Better management of pain associated with diabetic neuropathy can greatly enhance a patient's quality of life.